The Indianapolis Colts are considered by many to be the team of the decade. Lead by the incomparable Peyton Manning and featuring one of the most prolific offenses in NFL history, the Colts have been part of many memorable moments in the 2000s. In 2009, they continue their historic tear through the NFL by making a run at perfection. Indy Colts fans have a lot to be excited about and can take pride in their many recent successes. Show your Colts pride by using the Indianapolis Colts wallpaper featured below.
Download this Indianapolis Colts Desktop Wallpaper Below:
(Right Click, Save As)

Check out these great Indianapolis Colts products and deals!

If you wish to use this graphic as a Indy Colts Sig Pic instead, please download the image below and place these links in your signature: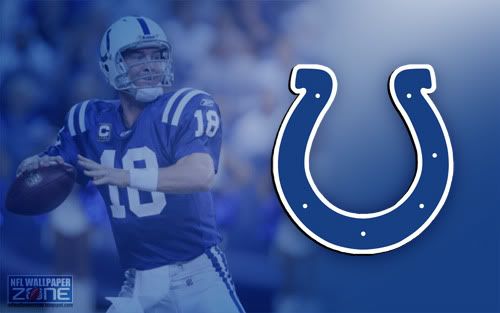 Indianapolis Colts Wallpaper and Sig Pic Courtesy of
NFL Wallpaper
Zone